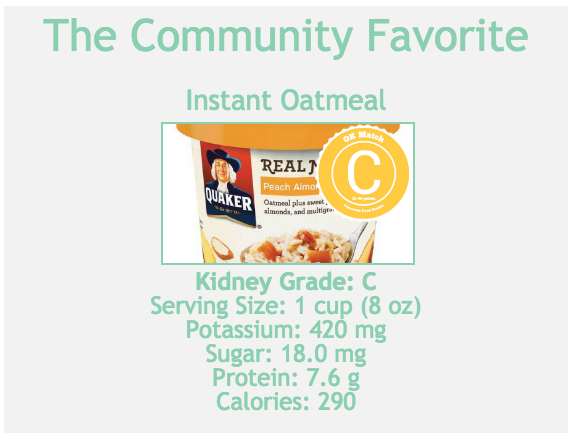 Your Favorite Favorites

With the Olympics underway, we can't help but notice the athlete-themed designs lining our breakfast cereal aisle. Like the classic Wheaties slogan, we want to help you find your "Breakfast of Champions"- one that is both nutritious and follows your chronic kidney disease diet. So, we compared to quick breakfast classics: oatmeal and a bagel.

Here's what we found. While Quaker Instant Oatmeal (with peaches) sounds like a healthy treat with oats and fruit, you might want to think again. Its oats are higher in potassium- taking you 20% closer to your daily potassium limit if you follow a strict potassium diet. As if that weren't enough, this quick meal features much more sodium and more free sugar (from peaches and peach syrup) which could be rough on your kidney diet and diabetic diet, respectively. A small Oat Bran bagel, on the other hand, has much less potassium, sodium and sugar. Of course, this fried treat does contain more saturated fat than oatmeal...balance is the name of the game.

Check out the nutrition facts and other simple substitutes onPrenovate's Food-Grading Engine.